Inspired by our Christian faith, our mission is to provide the highest standard of education and opportunity for all our pupils, enabling them to live their lives to the full.
Statements to Live By
Every week, we read and discuss the Statements To Live By. The children use them as a focus each week and they are displayed in the classrooms and the main focal area.
St Mary's Prayer Book
The school has it's own school prayer book.
Come and See Prayers
Liturgical Prayer
Liturgical Prayer in St Mary's Catholic Primary School names and celebrates God's presence in our lives. It is concerned with giving glory, honour, praise and thanks to God. It is our loving response, in word and action, to God's invitation to enter into relationship, made possible through the work of Jesus Christ and the witness of the Holy Spirit.
The Aims of Collective Worship
Collective Worship in St Mary's Catholic Primary School aims to provide opportunities for all pupils and staff:
To contemplate the mystery of God
To reflect on spiritual and moral issues
To explore personal beliefs
To respond to and to celebrate life
To experience a sense of belonging and to develop community spirit
To develop a common ethos and shared values
To enrich religious experience
To grow in liturgical understanding and development
To pray using prayers which are part of the Catholic tradition
To reinforce positive attitudes
To participate fully
To take time out 'to wonder at', 'to come to terms with' and 'to give worth to.'
Planning, Content and Celebration
Liturgical prayer is planned following a structure with reference to the Church's seasons, Come and See, feast days, the curriculum and significant dates e.g. CAFOD Family Fast Day, Holocaust Memorial Day.
Parish and parents are invited to participate in some celebrations.
A variety of prayer styles will be used appropriate to the age of the children and the occasion.
The Learning Environment
Religious artwork and displays are on show throughout the school and help the school community and visitors to experience the uniqueness of our learning environment.
Focal points in each classroom and throughout the school reflect the liturgical season and reference Come and See topics. Each class has a working wall which is used throughout each topic. A prayer corner is in the main hall for children to reflect and the spiritual garden outside allows the children time to pray and reflect outside.
The children plan and lead their own class worship each week.
Liturgical Prayer/ Liturgy Timetable
| | |
| --- | --- |
| Monday | Whole school Liturgical Prayer |
| Tuesday | Planning of class liturgy |
| Wednesday | Class liturgy |
| Thursday | Hymn Practice |
| Friday | Staff liturgy and Pastoral Care |
Throughout Advent and Lent each class will hold a 10 minute reflection, using the Examen. The prayer corner and spiritual garden is open every day for the children to visit.
Advent in St Mary's
Advent is a very special time of year. Here in St Mary's the children have been preparing for a very special birth. Each day the children share a reading from the Jesse tree and spend time reflecting in their advent journals and completing the Examen challenge. All KS1 children will have the opportunity to take home the travelling crib, which allows families to share the story of Christmas with the children, using a nativity scene, candle, a book and prayers. Our KS2 children all take home a family advent booklet to share a reading each week with their families throughout advent. Children all have an advent journal to use and a class liturgy and a school mass.
Lent at St Mary's
This lent in St Mary's we aim to reflect on the sacrifices Christ had to make.
Easter Mystery bags
Each class throughout KS1 and KS2 will take home an Easter mystery bag to share with their parents. To help us prepare to celebrate Easter we invite the children to join our special project called 'The Easter Mystery'. By sharing the Easter story we remember the life, death and resurrection of Jesus and, as a family, take time to stop and think about the true meaning of Easter each bag holds a tea light, the story of the Easter mystery, a cross and a purple cloth.
Lenten Journals
Children will start each day or end each day reflecting using the examen. During this time the children can complete their lenten journals.
Stations of the cross
KS2 will be attending church to visit the stations of the cross during lent and our RE ambassadors are working with the other schools in Jarrow to look at the stations of the cross.
Weekly liturgies
Class liturgies are still held every Wednesday in class.
Cafod
Lent calendar https://cafod.org.uk/Pray/Lent-calendar
Lent family question cards
Prayer stations
During holy week prayer stations will be held on Tuesday 28th March 2023 the hall for children and parents.
Easter week liturgies
Easter week liturgies will be held in school hall from 2:45 – 3:15
Year 3 – Monday
Year 4 – Wednesday
Year 5 – Thursday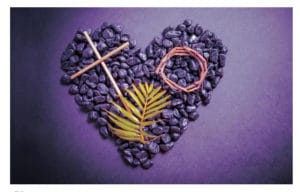 First Holy Communion 2022
Our children made their First Holy Communion in June. It was a beautiful day and the children were so excited to make their First Holy Communion. Thank you to the parents, St Mary's parish and Fr Saji for supporting the children on their journey of faith.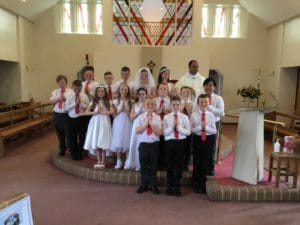 First Holy Communion 2023
If your child is making their First Holy Communion this year, then please see the dates for the sessions below:
The first two sessions will take place during school time. The remaining sessions will be after school 3:30-4:30.
Session 1 Gathering – I have called you by your name
Date: Thursday 24th November 2022
Session 2 Baptism – Welcome to the family of God
Date: Thursday 15th December 2022
Session 3 Listening – The Word was made flesh and dwelt among us
Date: Thursday 19th January 2023
Session 4 Reconciliation – We seek forgiveness
Date: Thursday 16th February 2023
Session 5 Gifts we offer – God made me, as I am – part of creation's plan
Date: Thursday 23rd March 2023
Session 6 Give Thanks – Blessed are you Lord God of all creation
Date: Thursday 13th April 2023
Session 7 Take and Eat – Do this in memory of me
Date: Thursday 11th May 2023
Session 8 First Holy Communion – This is my Body, This is my Blood
Date: Saturday 10th June 2023